The Department of Animal Welfare of the Sabadell City Council, as a new collaborating entity of the Master in Animal Law and Society, presents us with three of its projects:
PROJET 1
Project description: one of the purposes of the Animal Welfare Department is to adapt the City to the animals's needs and their owners. We are working to provide more specific spaces for dogs and to increase the access of animals to public establishments, shops and restaurants.
Along this 2021 has begun a project consisting of visualizing and identifying commercial establishments, restaurants and hostelry "petfriendly". The first meetings with trade and hostelry associations have started  to gather information, reflect together on possibilities and limits and collect proposals, with very interesting and constructive contributions.
The person who choose this project must contribute to:
Find and study similar experiences in other parts of the world
Analyze and compile the limitations imposed by regulations.
Participate in meetings with traders, hostelry and animal associations.
Make a proposal of requirements to achieve the Petfriendly badge
Make a proposal of rules (by establishments, owners, exceptions, etc.)
Work in a campaign for communication and recruitment of establishments
If possible, also make an evaluation of access to equipment, buildings and public transport, regulations, characteristics, conditions…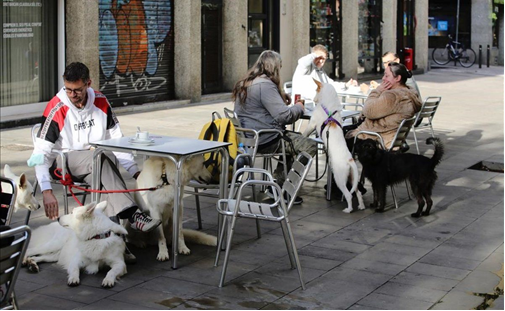 PROJECT 2
EDUCATION FOR ANIMAL WELFARE (to choose one of the three offered)
Project description: other purposes of the Program are to promote training and education on animal welfare against animal abuse, in a society that is worried about the animals's rights and. The internship student collaboration would mainly focus on participating and working on two educational projects:

1. COMMUNITY SERVICE. Community Service is an educational action to develop social and civic competence. Its purpose is to guarantee that students, throughout their school career, take part in civic engagement actions. The proposals are for 3rd and 4th year ESO students in Catalonia and must be complied since 2019-2020 academic year.The person who chooses this project will look for similar experiences in animal welfare issues that are taking place in Catalonia. With the collaboration of associations they will make a proposal for the secondary schools in Sabadell.

2. TRAINING NEW OWNERS OF PETS
It is being valued offer free training to people who register a companion animal. It's important they know about the regulations, feeding, veterinary care, what to do in public space and private space...
The one who chooses this project will work with the Sabadell Canine Unit. They will work in the program and content, schedules, media, evaluation, etc.
PROJECT 3: SOCIAL INTERVENTION FOR ANIMAL WELFARE (to choose one of the three offered)
Project description: this project will work in certain social problems that also affect animal welfare. It is about develop protocols and circuits that allow ensuring the well-being of people and animals.

1. Noe syndromes: detection, investigation of the problem, proposal of a protocol and training of professionals to deal with cases of Noe syndrome and avoid their recurrence.

2. People with long hospitalization and dependent animals: detection of good practices, proposal of a protocol to activate shelters in case of long hospital admissions of owners without family or social network to take care (commitments, how to guarantee the compliance, keep the relation with the owner, etc.).