ICALP is the first interdisciplinary, interdepartmental and international center that structurally combines the social sciences, the humanities, the health sciences and the Animal welfare sciences. We believe that this produces an important synergy between four large, traditionally separate scientific communities, which, through our initiative, are integrally involved in all aspects of animal matters.

The ICALP was created by the Consell de Govern of the Universitat Autònoma de Barcelona on November 12, 2015 (Acord 91/2015).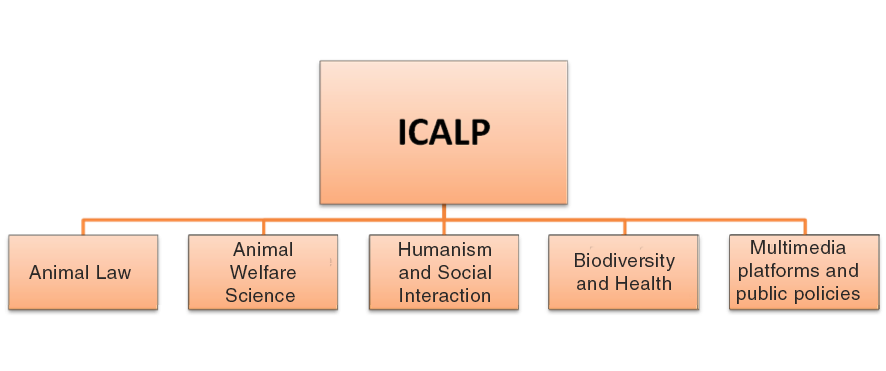 The creation of the ICALP, was supported by  entities and scholars from all over the world, which are the basis of committed loyalty to our challenges and objectives.
Our gratitude to all of them for their trust and continuing encouragement:
Randall S. Abate. Professor of Law, Florida A&M University College of Law. Director of the Center for International Law and Justice (+info)
Animalex. Despacho especializado en Derecho Animal (+info)
Animals' Angels. (+info)
Gieri Bolliger. Executive Director, Stiftung für das Tier im Recht, Switzerland (+info)
Sabine Brels. LL.D. in Law. Manager of the Global Animal Law (GAL) Project (+info)
Riccardo Cardilli. Professore Ordinario, Università degli Studi di Roma Tor Vergata, Italia (+info)
David Cassuto. Professor of Law, Pace University, USA. Director, Brazil-American Institute for Law and Environment (BAILE) (+info)
Gustavo F. De Baggis. Doctor en Derecho. Profesor, Universidad Nacional de Cuyo, Argentina (+info)
Joyce D'Silva. Ambassador Emeritus, Compassion in World Farming, London, UK (+info)
David Favre. Professor of Law, Michigan State University College of Law, USA (+info)
Federation of Veterinarians of Europe. Brussels, Belgium (+info)
Andrea Gavinelli. Head of the Animal Welfare Unit in the Health and Food Safety Directorate General of the European Commission, Brussels, Belgium (+info)
Heron José de Santana Gordilho. Doutor em Direito. Professor, Universidade Federal da Bahía, Brazil (+info)
Moe Honjo. Doctoral cadidate, Hitotsubashi University, Tokyo, Japan (+info)
Humane Society International, USA (+info)
IRSEA. Institut de Recherche en Sémiochimie et Ethologie Appliquée, France (+info)
IRTA. Recerca i Tecnologia Agroalimentàries, Monells, Barcelona (+info)
Olivier Le Bot. Professeur de Droit Public, Université Aix-Marseille (+info)
Loïs Lelanchon. Master en Derecho Animal y Sociedad. Senior Consultant, IFAW, Brussels. (+info)
Jean-Marc Neumann. Lawyer. Executive Coordinator of EGALS (+info)
Anne Peters. Professor of Law. Director at the Max-Planck Institute for Comparative Public Law and International Law, Heidelberg, Germany (+info)
Aurelia Vargas Valencia. Doctora. Profesora, Universidad Nacional Autónoma de México. Presidenta de la Asociación Mexicana de Estudios Clásicos (+info)
Peter Sankoff. Associate Professor, University of Western Ontario Faculty of Law (+info)
Krishna Singh. Legal Counsel, PETA Germany
Joyce Tischler. Founder, General Counsel, Animal Legal Defense Fund, USA (+info)
Daniela Romero Waldhorn. Directora General, Anima Naturalis Internacional (+info)
Song Wei. Professor. Dean of the School of Public Affairs, University of Science and technology of China (+info)
Steven M. Wise. President, Nonhuman Rights Project, USA (+info)
David Wolfson. Professor of Law, New York University, USA (+info)